We're bigger than a single building.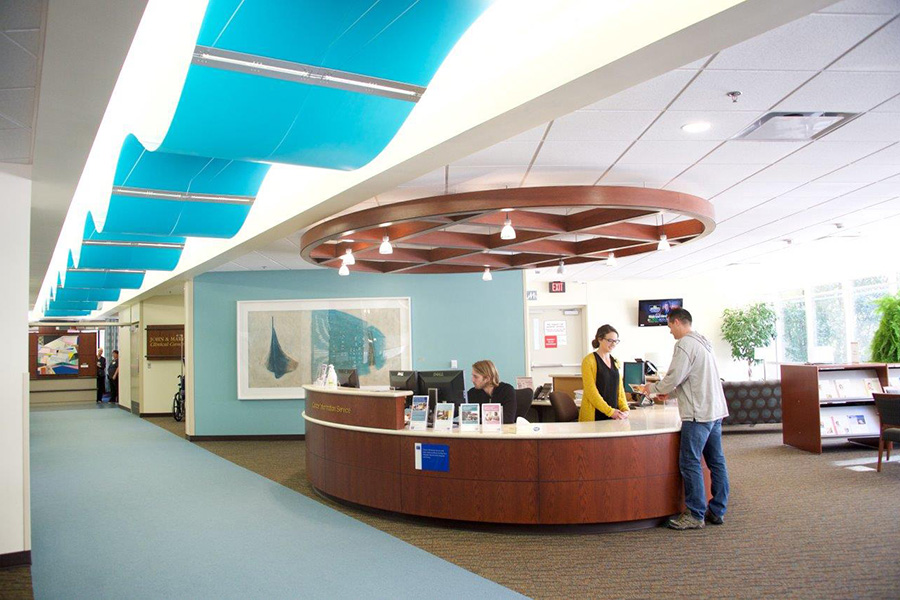 Holden Comprehensive Cancer Center coordinates cancer-related patient care, research, and education across many departments and colleges at the University of Iowa. 
Our patients receive care throughout UI Hospitals & Clinics, UI Stead Family Children's Hospital, and our other Iowa clinics. 
We're pleased to provide outstanding facilities for your care and comfort.
A committee of patients helped us design our brand new Blood and Marrow Transplant Center. It's part of our history of helping meet your care needs as you would have them met.

Another example is the design of the chairs in our infusion center. The manufacturer calls them the "Iowa chairs," because they were created using input from our patients.

With our patients' input, we've designed our reception areas to be small and intimate, with an emphasis on calm and peaceful environments. Our waiting rooms offer loveseats in addition to chairs at the advice of our patient advisory group. 

 

People come to Holden from all parts of the country, from every county in Iowa, and from places outside the United States.

Our facilities are designed to accommodate all of those patients while providing you with the personalized care you expect.

The clinical cancer center comprises four clinics all located within Pomerantz Family Pavilion (PFP) —Clinic A and B, located on Level 1, Clinic C on the Lower Level, and Clinic D located on Level 3.

The floor above the main clinic space is the main cancer center infusion center for chemotherapy, with more than 40 chairs and eight private rooms. At the advice of our patient advisory group, each chair has a TV and headset, with half-walls that allow patients to socialize or to have a curtain pulled for privacy. A second infusion suite is located on Level 4, with an additional 12 infusion spaces.

We help you make the most of your visits. Testing, imaging, consultations, and treatments take place in our modern, easy-to-access setting.

Depending on your cancer, you also may be seen in other clinical areas, including Dermatology, Digestive Health Center, Women's Health, Orthopedics, Otolaryngology, Pediatrics, and Urology. All are located within UI Hospitals & Clinics. We can guide you to your stops, or arrange a ride for you on our in-house golf cart.

Children are seen in the Pediatric Specialty Clinic on the Level 2 connector bridge between UI Stead Family Children's Hospital and UI Hospitals & Clinics.

Breast imaging—including 3D mammography, breast ultrasound, and MRI-guided core biopsy—is located on Level 4 of PFP above the cancer center infusion suites.

We have a pharmacy in the cancer center that is ready to fill your prescriptions and provide over-the-counter medications and items for your joy and comfort.

We're recognized nationally for the highest level of nursing care we provide our patients. Our hospital was named a Magnet Hospital by the American Nurses Credentialing Center (ANCC).

Our nurses have specialized training in specialty care for oncology patients. You'll find that training evident in all three of the inpatient hospital units that care for cancer patients, including one for stem cell transplants and cellular therapies.

Holden Comprehensive Cancer Center also sees patients in the Quad Cities at our University of Iowa Health Care Cancer Services–Quad Cities location. Doctors and nurses in the Bettendorf clinic are part of University of Iowa Health Care's Iowa Oncology Network, providing patients with access to clinical trials, the latest technology, and advanced treatment protocols, such as molecular oncology and immunotherapy.