Holden announces CAR T-cell therapy.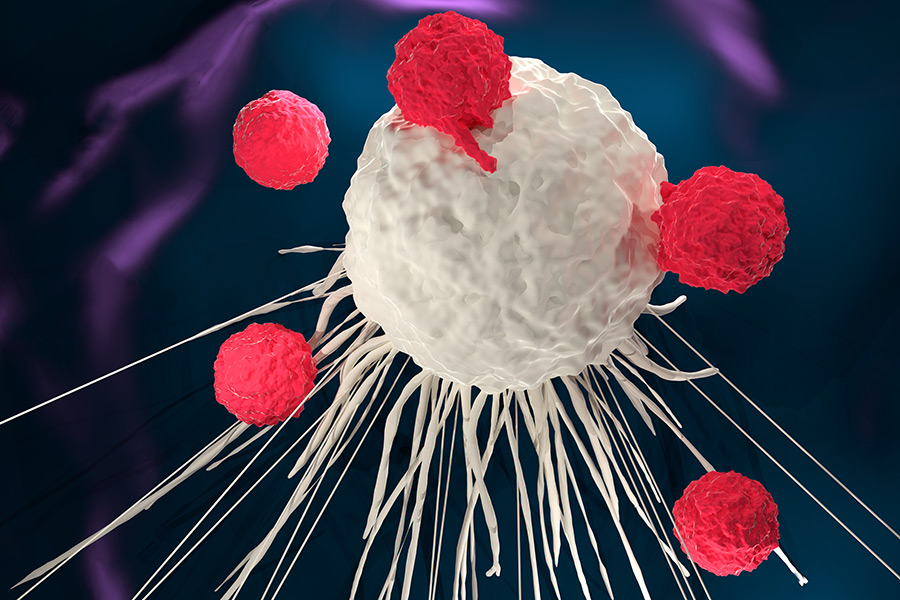 University of Iowa Health Care is now certified to offer CAR T-cell therapy, a newly approved treatment that uses a patient's own white blood cells to detect and kill cancer cells.
The U.S. Food and Drug Administration has approved the use of CAR T-cell therapy for patients with certain types of blood cancer, says George Weiner, MD, director of Holden Comprehensive Cancer Center.
Holden is among the first sites in the nation, and the first in Iowa, to treat patients with CAR T-cell therapy.
"We are excited to be able to bring CAR T-cell therapy to the state of Iowa," Weiner says. "This new treatment approach can be highly effective for select patients with large B-cell lymphomas and acute lymphoblastic leukemia. With additional research, some of which is taking place at the University of Iowa Holden Comprehensive Cancer Center, I am confident it will be able to help a broader range of patients in the years ahead."
Cancer cells survive in the body because they are able to avoid the immune system. CAR T-cell therapy is a type of immunotherapy, which means it helps the immune system find cancer cells and destroy them.
In CAR T-cell therapy, white blood cells known as T-cells are extracted from the patient's bloodstream and then sent to a lab. In the lab, technicians add genes to the T-cells that produce chimeric antigen receptors (CARs) on the cells' surfaces, converting them into CAR T-cells.
Those CAR T-cells are then infused back into the patient's bloodstream. The newly added receptors allow the CAR T-cells to recognize cancer cells and kill them. The CAR T-cells also multiply in the bloodstream and continue to search for new cancer cells to prevent recurrence of the cancer.
Holden Comprehensive Cancer Center offers two CAR T-cell treatments: Yescarta (axicabtagene ciloleucel) for adult patients with large B-cell lymphomas that have failed at least two other kinds of treatment, and Kymriah (tisagenlecleucel) for children and young adult patients with relapsed or refractory acute lymphoblastic leukemia (ALL).
Before the therapy can be given, UI Health Care physicians will conduct tests to determine if a patient is eligible for CAR T-cell therapy and whether it can be administered safely.
Back to News