There's help for cancer patients to quit smoking.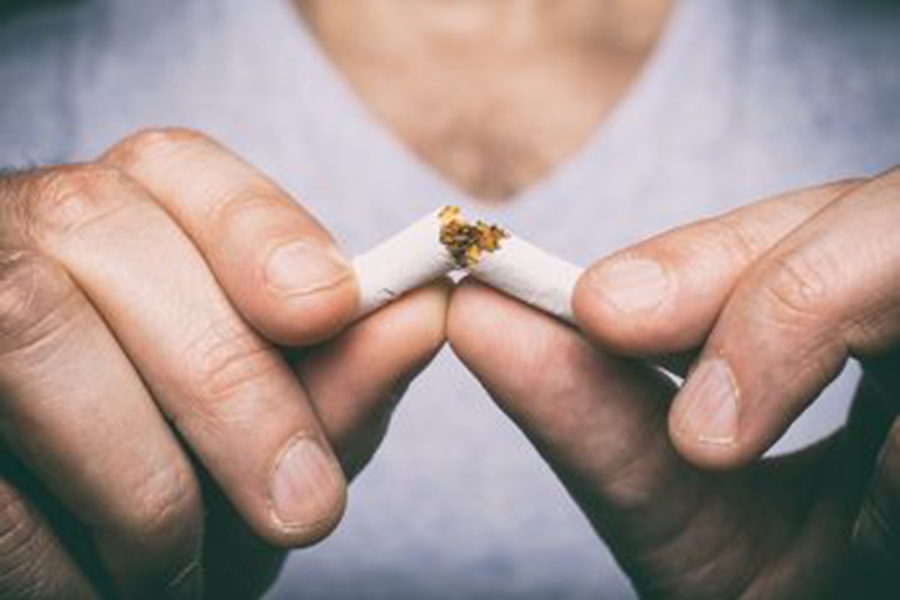 Although doctors and nurses who treat patients with cancer know how harmful tobacco use can be, efforts to help patients quit are not a well-integrated part of overall cancer care.
Researchers at Holden Comprehensive Cancer Center have received a two-year, $500,000 grant from the National Cancer Institute (NCI) to develop strategies to improve tobacco cessation interventions for patients with cancer.
The project, funded by the NCI as part of the Cancer Moonshot initiative, is part of a larger nationwide effort to improve the delivery of treatment for tobacco use in patients receiving care in comprehensive cancer centers. David Katz, MD, UI associate professor of internal medicine and epidemiology, and Mark Vander Weg, PhD, associate professor of internal medicine and psychological and brain sciences, will lead the UI project.
"Cigarette smoking is a significant cause of numerous types of cancer, including cancer of the lung, head and neck, stomach, liver, pancreas, kidney, cervix, and colon/rectum, as well as acute myeloid leukemia," Katz says. "For patients with cancer, continued smoking is associated with greater risk of dying, an increased risk for a second primary cancer, a worse response to certain cancer therapies, and an increased likelihood of toxicity from cancer treatment. Fortunately, individuals who quit smoking can greatly reduce these risks."
Team will "connect the dots" for cancer patients.
The Holden researchers aim to create a system that can "connect the dots" by using team members and resources already in place to identify patients who use tobacco and provide a personalized plan to help them quit. The strategy will capitalize on nurse navigators and on-site tobacco treatment specialists, as well as UI Health Care's electronic medical record system, to deliver tobacco cessation intervention as a holistic part of each patient's care.
Nurse navigators, who specialize in coordinating care for patients undergoing cancer treatment at Holden, will be trained to specifically identify patients who use tobacco and provide them with tailored advice on tobacco cessation. Navigators will refer patients to on-site tobacco treatment specialists who will customize cessation interventions to each patient's readiness to quit and their overall cancer treatment plan.
Patients will receive ongoing education, counseling, and support from the specialists both in the clinic and via telephone counseling sessions and text messages. The specialists can also set up prescriptions for tobacco cessation medications in conjunction with the patient's oncologist, monitor adherence to the medication, and help coordinate effective communication among providers. The project will also make use of the electronic medical record system to prompt members of the patients' oncology team to initiate tobacco cessation interventions.
"Our approach recognizes the importance of tailoring treatment to patients' personal needs and preferences," says Vander Weg. "Because of the stresses that are commonly associated with a cancer diagnosis and treatment, as well as the challenges associated with quitting smoking, the intervention offers more intensive support over a longer period of time than is commonly offered in most medical settings. By providing a more individualized treatment with greater ongoing support, we hope to increase patients' chances of quitting smoking successfully."
The success of the program will be evaluated by measuring the reach and impact of the intervention in terms of the overall percentage of patients who receive treatment for their tobacco use and the percentage who are ultimately able to quit smoking. The research also will measure patients' satisfaction with the treatment program.
Back to News