When a loved one has a serious medical condition, it may feel overwhelming.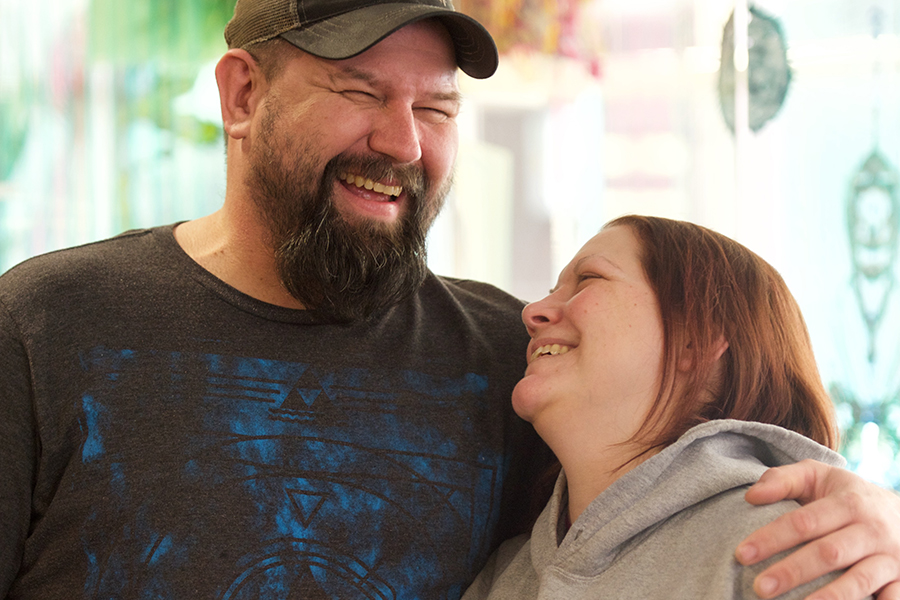 You may be anxious, stressed, or having difficulty coping with the diagnosis.
First, know that your feelings are normal. In addition to your caregiving, you are feeling the pressures of handling all of the other aspects of your life—home, work, school, family. You'll want to prioritize things so you aren't over-burdened by everything at once.
Be proactive.
It helps to learn all you can about your loved one's cancer diagnosis so you understand and feel empowered whenever you need to discuss medical information and treatment options. You may find it helpful to attend most of the doctor appointments, so you know what happens every step of the way. Or, if you can't attend, seek permission to call the care team directly if you have questions or concerns.
Stay positive.
Many cancers can be successfully treated. The American Society of Clinical Oncology (ASCO) notes that a positive attitude can help "set the tone" for how you and your loved one journey through cancer treatment.
You may not be able to control what happens with cancer treatment, but you are in control of how you react. If you are having difficulty coping, it may be helpful to seek counseling from health care professionals or spiritual advisers.
You can do these specific things today.
You can't do it all during a long-term illness, no matter how hard you try. There are times when you will feel overwhelmed—either physically or emotionally. Know that caregiving is a team effort because it actually does take a team. Your team can include other family members, relatives, friends, community volunteers, or church members.

Don't feel guilty when you need to reach out for assistance. There will be people who want to help you in any way they can. Let them. By allowing them to take on some responsibilities, you can find your own time to recharge, rest, and relax.

One of the easiest ways to mobilize friends and family is to create a wish list of things you need done. This can be a checklist that you post online or can send to those who want to help. Update the list as you see fit. Here are some items to consider:

Meals - Don't be shy about telling people that you do or don't want food. You may find it easier if you receive gift cards for restaurants instead of a home cooked meal. If you do want meals delivered, be open about your food likes and dislikes and what days/times you prefer them (and if they should be ready to eat or frozen). Create a calendar of dates for when you would like meals prepared.
Visiting – Within the boundaries of your loved one's medical condition, it's wonderful to have a core group of friends or family who can regularly stop by and sit with your loved one while in the hospital or at home. This gives you a break, too. Make sure to let them know about any precautions to take (no hugging or shaking of hands if someone is undergoing chemotherapy, don't volunteer if you have a cold, etc.). Remember to also leave an emergency contact list for whenever you are away.
Children – Consider asking for help to take your children to social activities and sporting events or having them go on a play date while you take care of your loved one.
Pets – Are you going to be at the hospital for an extended period of time? Ask someone to walk your dog or feed your other pets while you are away.
Parking – Getting help with the cost of daily or long-term hospital parking can make a difference. Friends can purchase daily or weekly parking passes for you if you need them.
Cleaning – Sometimes, you just don't feel like cleaning your home when you are worried and caring for a loved one. Put on the wish list for someone to help clean your home, or even just a room or two. If friends have a cleaning service, maybe they can exchange their time for cleaning at your house.
Outdoor chores – Consider having someone mow your lawn, shovel the driveway, rake the leaves, or water the garden.
Book/magazine/movie library – Have someone put a box together of things to do while sitting with your loved one. This can include books for you or your children, magazines, etc. Tell them if you have access to a video player to play movies.

UI Hospitals & Clinics and UI Stead Family Children's Hospital offer patients and their families access to web blogs to create their own personal, protected website to stay connected. Members of your loved one's care team can help you get started, or visit www.caringbridge.org.

Take your cues from your loved one, but try to find times when you can do something together. It may be watching a movie or doing a jigsaw puzzle, or, if they feel up to it, taking a stroll outside or a drive through a nearby park. The doctor may even approve a short vacation. All of these opportunities are vital to maintaining positive self-esteem and give you both a chance to talk about things other than the cancer diagnosis.

It may seem like a difficult time to bring up critical issues such as finances or power of attorney, but an honest conversation should take place soon after diagnosis so that home, life, and finances are addressed.

Talking about these issues also can empower your loved one to be in charge. Does he/she have a will, an advanced healthcare directive, or medical power of attorney signed? Double-check and make sure you know where copies of these documents are kept securely. You also should ensure that financial accounts and home mortgages are reviewed for updated beneficiary information. By taking care of these in the earliest stages of a cancer diagnosis, you can alleviate future stress should any of these documents be needed at a later date.

If you live out of town and can't come to see your loved one as often as you'd like, you may be feeling stressed about how to help. You can still regularly call or send notes, or do online video calls.

You also can mobilize a group of friends and neighbors to regularly check on your loved one or create a contact list of local agencies you can call whenever a service is needed.

Consider assistance from local adult day care centers, meal delivery services, home health agencies, or medical contacts. If your loved one needs to take medications several times a day, try setting up automated text or voicemail reminders on their phone.

It's sometimes reassuring to hear from others who are on the same journey as you. Ask your doctor or nurse how you can get involved. If your feelings of anxiety, depression, anger, or despair continue, we also can refer you to a counselor or social worker who can help you in your time of need.

Both of you can look for ways to alleviate the emotional stress that comes with a cancer diagnosis. Meditation, yoga, deep-breathing techniques, or guided imagery are good options. Do either of you have a creative side? Explore art, music, or photography together.

You can't be a good caregiver if you don't first take care of yourself. You need to eat well, get regular rest, and find time to pamper yourself. It can be something as simple as taking a long bath, listening to music, going out to lunch with friends, meditating, heading to the gym to exercise, enjoying the outdoors, pursuing a hobby, or simply relaxing by yourself. It's vitally important that you re-charge. Don't feel guilty about taking a time out and letting others help when you feel overwhelmed.