Participate in a cancer research registry.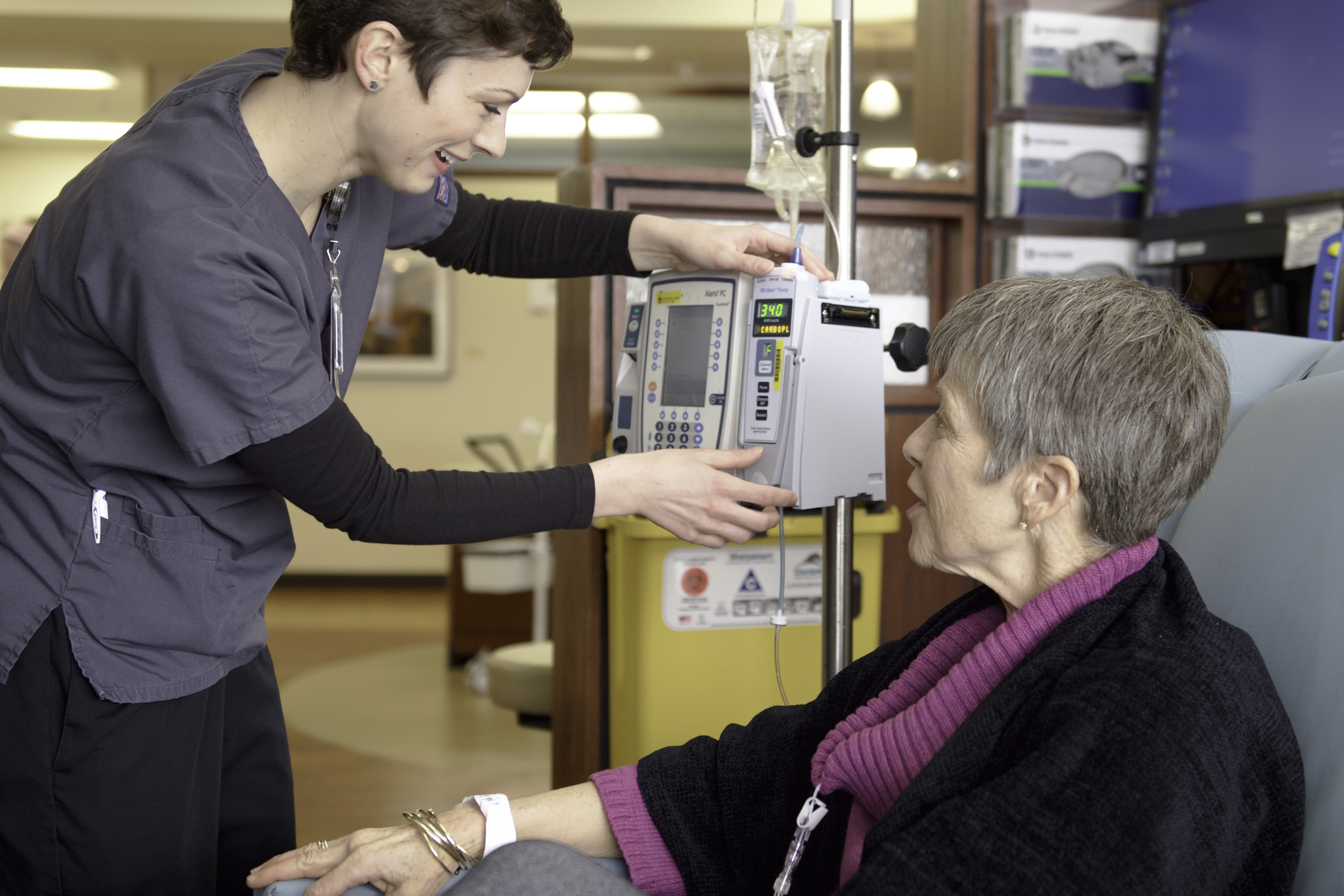 A registry is another type of clinical research. A registry is a database of cancer information that helps researchers discover new treatments, learn about the genetics of cancer, and more.
A cancer research registry collects information about cancer patients and their cancer and stores it all in one place so that the information can be used by researchers. When you participate in a cancer research registry, you're helping those researchers in their work to help future cancer patients live longer and better lives.
The cancer research registry program at Holden is called PERCH. PERCH stands for Patients Enhancing Research Collaborations at Holden. All new cancer patients at Holden are asked whether they want to participate in the PERCH program.
When you choose to participate, you're agreeing to share your cancer information with cancer research registries here at the University of Iowa and at our partner institutions around the country who are members of the Oncology Research Information Network (ORIEN).
A registry is observational. That means no treatment is involved. Instead, we collect information from you that can be used in future research. That information could include tissue or blood samples, information from your medical records, or your answers to questionnaires.
You can participate if any of the following is true about you:
You are a patient who is seeing a clinician at Holden.
You have been diagnosed with any type of tumor or cancer.
Your family has a hereditary condition or strong history of cancer or tumors.
You are willing to share samples and data for research.
There is no cost to participate, and your participation will not change your treatment, your relationship with your providers, or the quality of your care.
If you do participate, you may be asked for permission for PERCH or ORIEN staff to do the following:
Study and review your medical records for information about diagnoses, treatments, and procedures
Collect tissue, blood, and other fluids
Respond to and fill out confidential questionnaires about your physical and emotional health, family history, and lifestyle
Stay in touch with you over time to contact you about future research studies or to collect more information
We ask for your permission to study the extra tissue that would otherwise be stored or discarded. We may also collect additional blood and other samples during your scheduled appointment. Whenever possible we try to draw blood at the same time you're having blood drawn for you medical care.
To learn more about PERCH, please email cancercenter-mer@healthcare.uiowa.edu or call 1-319-356-4783.
Here's how you become a member of our research team.
We invite you and your physician to review the clinical trials now under way at Holden.

You may be asked to participate in a cancer registry, which is another type of clinical research. 

These registries are observational, which means no treatment is involved. Instead, we will collect samples to use in future research.

Your participation in the registry will help our researchers discover new treatments, learn about the genetics of cancer, and much more. This research has the potential to impact patient outcomes such as survival and quality of life. 

Holden is one of 17 cancer centers that participate in a national research partnership called the Oncology Research Information Exchange Network (ORIEN). The goal of ORIEN is to help discover personalized cancer treatments that are based on an individual's genetics. This is done by creating a database that researchers have access to when studying cancer.

Depending on your cancer, you may also be eligible to enroll in the Molecular Epidemiology Resources (MER) Core. The MER Core researches specific types of cancer, including:

Breast
Genitourinary (prostate, bladder, and kidney cancers)
Lymphoma
Melanoma
Multiple Myeloma
Gastrointestinal (pancreatic, colon, rectal, and appendix cancers)
Sarcoma