Holden Comprehensive Cancer Center opens new infusion suite, expanding cancer care for Iowans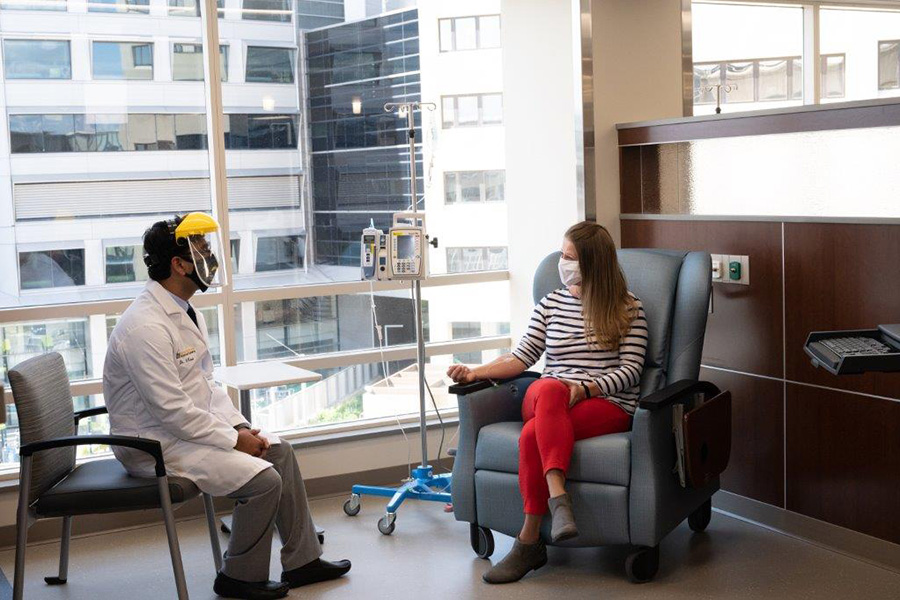 University of Iowa Holden Comprehensive Cancer Center is opening a new infusion suite that will expand access to advanced cancer care for Iowans and patients from across the region.
Located on the fourth floor of the Pomerantz Family Pavilion at UI Hospitals & Clinics and overlooking Kinnick Stadium, the new infusion suite contains 12 infusion spaces. The suite is custom designed to ensure patient comfort and facilitate the delivery of advanced cancer therapies given intravenously, including a wide range of chemotherapies and the latest immunotherapy options. This is the cancer center's second infusion therapy suite and expands overall capacity from 47 to 59 infusion bays. 
"Cancer care continues to improve, with new therapies becoming available that are helping patients with cancer live longer and better quality lives. The addition of this new space allows us to provide the best cancer care and more treatment options to more patients," says Taher Abu Hejleh, MBBS, medical director of Holden Comprehensive Cancer Center clinical services, and a UI clinical associate professor of internal medicine.
Holden Comprehensive Cancer Center is Iowa's only National Cancer Institute-designated comprehensive cancer center and provides comprehensive, personalized care for every kind of cancer. The chemotherapies and immunotherapies delivered in the new infusion suite are precisely designed and delivered to match the individual needs of each patient.
"Over the past five years, we have seen an 18% rise in the number of patients we treat," says George Weiner, MD, director of Holden Comprehensive Cancer Center. "Our success in offering our patients clinical trials that provide access to exciting new cancer treatments is growing even faster.  It's important for us to grow our capacity to ensure we to continue to provide our patients with the care they need."
Back to News