Holden is one of three U.S. centers offering the latest radiation therapy technology.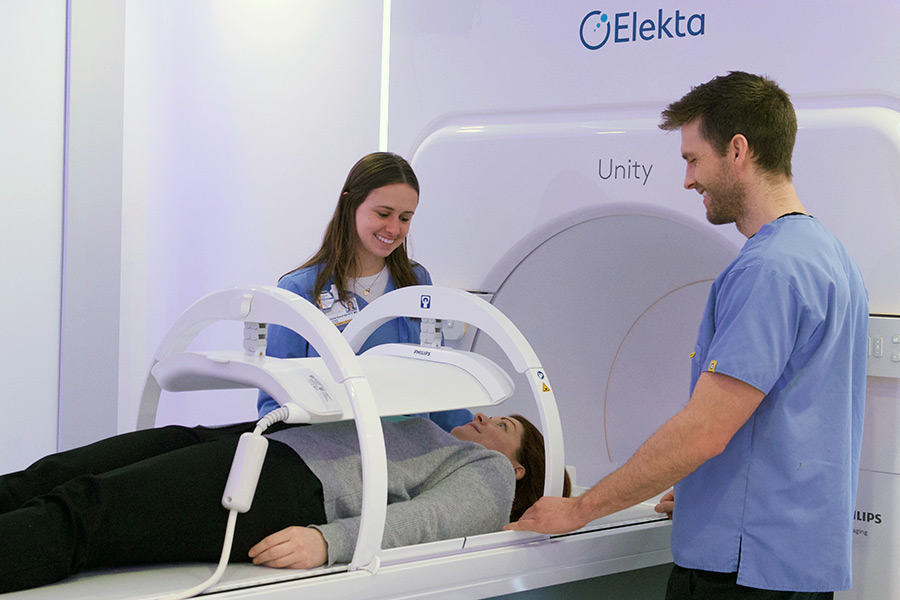 May 2019 - The University of Iowa Department of Radiation Oncology this month began using a just-approved radiation therapy device that combines state-of-the-art imaging and radiation targeting. 
The MR-linac allows doctors to deliver radiation therapy with unprecedented accuracy, especially for soft-tissue tumors that can easily change position. The new technology also promises to reduce the number of radiation doses significantly.
Our patients benefit from these advantages.
John Buatti, MD, chair of the Department of Radiation Oncology and a Holden Comprehensive Cancer Center member, describes how use of the MR-linac technology will help to personalize treatment of soft tissue tumors.
"Some of these tumors can change position from day to day or even from breath to breath," Buatti says. "We will be able to target them more accurately, and we'll be able to tailor each treatment based on how the tumor is responding. This is also safer for patients, because the radiation doses are less likely to affect healthy tissue."
UI radiation oncology staff will initially use MR-linac for prostate and brain cancer therapy. Future applications will include moving targets in the abdomen, such as tumors in the pancreas, liver, and lungs. Currently, Holden is just the third cancer treatment center in the country offering the innovative treatment option.
Buatti says that by delivering higher doses of radiation more accurately, the therapy can kill tumor cells with increased efficiency. That can translate into fewer treatments for some patients, he says. A typical course of radiation therapy for prostate cancer treatment, which now requires 40 visits, can be shortened to as few as five visits for some patients. 
Buatti and other University of Iowa radiation oncologists and physicists were part of an international consortium of academic medical centers that worked to collect data to help prepare the MR-linac technology for safe and effective clinical performance.
Here's the breakthrough behind this new technology.
Buatti explains that MR imaging produces better soft-tissue contrast than the Cone-Beam CT imaging used in traditional linear accelerator radiation therapy, which means visualization of tumors and surrounding normal tissue is improved, allowing a daily treatment plan that treats the tumor more precisely and avoids more normal tissue. MR also does not deliver the extra dose of radiation that a Cone-Beam CT does.
Using MRI and a linear accelerator in the same space had never been possible before, because the magnet in the MRI ordinarily interferes with the linear accelerator's beam generation, while the beam generation typically degrades the quality of the MR imaging. The design of MR-linac overcomes this obstacle through the use of a radio frequency "cage" that effectively blocks the two technologies from disrupting each other.
Preparation and training for the new equipment lasted more than a year and included efforts from a staff of five physicists. The device adds to the exquisite image guidance capabilities in the Center of Excellence in Image Guided Radiation Therapy.
Back to News